Connections Enews
Want to keep up to date with everything happening in the world of aboriginal art. Subscribe below for our irregular news bulletin.

Subscribe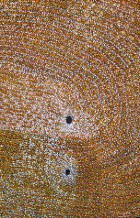 click to enlarge
Featured Art Tour
Join a privileged small group on an adventure by private jet into the remote reaches of Western Australia and Northern Territory.
Travelling with you are two experts in their field – a Top End resident and proud ambassador of indigenous Australia and a Melbourne specialist on Aboriginal art whose connections allow special access to invitation only indigenous art centres.
You'll visit isolated Aboriginal communities, marvel at ancient rock art, see one of the country's biggest open cut iron ore mines, experience the natural wonders of Ningaloo Reef and explore the Kimberley wilderness around Berkeley River and the spiritual and remote areas of Arnhem Land.
Accommodation has been hand-picked for its location and experiences and all meals and drinks are included. There are no added extras.
Travelling by private jet there's room to spread out with luxurious Business Class seats, First Class food and beverage in flight and generous luggage allowance. To access Berkeley River and Arnhem Land, we use smaller private aircraft.
This tour is led by Bill Zammit, principle Aboriginal Art Connections, and Aboriginal Art specialist Vivien Anderson
For more information contact Bill Zammit on 0408 741 795.

Read more
Happenings
1.2.14 Outstation Gallery presents 'Rising Stars 2014', our annual exhibition showcasing paintings by the next generation of star artists from remote community art centres. www.outstation.com.au
3.2.14 First Basil Hall Editions Braidwood Workshop 2014. http://www.basilhalleditions.com.au
19.2.14 Anniversary of the Bombing of Darwin.
16.3.14 Tiwi Islands Annual Football Art Sale. A fantastic chance to view and buy Tiwi Island artwork and watch a game of footy.
3/4.8.14 MILIMIKA - Tiwi Islands Festival is the Northern Territory's newest arts, culture and performing arts festival. This is a weekend of celebration with proud Tiwi Islanders' sharing their culture, featuring local talent in music, dance, the Tiwi Bombers football team and lots of activities for kids
27.4.14 Tunbridge Gallery 6 day Central Australian Experience Read more
25.5.14 Vivien Anderson 6 day Central Desert Art Tour Read more
18.5.14 5 Day Tunbridge Gallery Western Australia Experience 2014 Read more
7.6.14 Daly River Merrepen Arts Festival
14.7.14 Three day Arnhem land private tour
7/8.6.14 Barunga Festival is a celebration and showcase of remote Australian indigenous community life though music, sport and culture. Barunga Festival benefits the community of Barunga and the people of the region economically, socially and culturally.
7.8.13 Telstra Art Award (National Aboriginal & Torres Strait Islander Art Award, (date to be confirmed). Darwin. Aboriginal Art Connections can help you with your accommodation and touring options.
7.8.13 Darwin Aboriginal Art Fair Darwin Convention Centre. www.darwinaboriginalartfair.com.au/.
7.8.13 Darwin Festival Darwin Festival is an 18-day feast of music, theatre, dance, cabaret and more in the beautiful tropical city of Darwin. www.darwinfestival.org.au/
17.9.14 One day Tiwi Islands private art tour